We Understand the Struggle
---
Diet-Linked Health Issues
Many pet owners are unaware of signs that their dog is receiving insufficient nutrition. Others find out after significant damage is already done.
Confusing Labels
Even if reading the labels were easy, which ingredients and nutritional profiles are best?
Recalls & Alarming Discoveries
Many of the most TOP RATED and CRITIC-REVIEWED dog foods were listed in the FDA's Investigation into Potential Link between Certain Diets and Canine Dilated Cardiomyopathy. Read the report.
After Many Years of Research & Experience...
---
...we discovered a dog food that actually delivered results
We feed & recommend TLC Whole Life Puppy & Dog Food because we believe it will help our dogs live longer. Each ingredient was tediously picked out and combined to be extremely beneficial for the entirety of your puppy's life--and we've seen the results!
Order Here
Highest Nutrition
Many dog foods require supplementation. For example, most Golden Retriever owners add salmon oil for shiny coats and healthy skin, glucosamine and chondroitin for long-lasting and strong joints, probiotics and prebiotics for optimal digestion and gut health, etc. However, TLC doesn't require any supplements as it includes all the above and a lot more. Just take a look at their ingredients! It's formulated for optimal health in all stages of life to help our pets live longer.
No Common Allergens
The removal of common allergens eliminates a host of potential underlying issues. AND there are no chemical preservatives, no artificial colors, no artificial flavors, and no soybean or animal by-products added as fillers. Because of the high level of concentration of vitamins, minerals and meat products in Whole Life Pet Foods your pet also does not require as much food to be both satisfied and nourished. This not only greatly benefits your pet, but also results in a low cost per serving.

Grain Free? No Thanks.
"Grain-Free" products are often forced to replace whole grains with high-protein, plant-based substitutes, leading to the reduction of higher-quality meat-based protein OR unnaturally high protein levels. TLC includes vitamin and mineral-rich whole grains like whole brown rice, barley, oatmeal, flaxseed and millet; chosen for their incredible health benefits. TLC is also a meat-first, ancestral based formula made with wholesome ingredients and biologically beneficial protein sources.
Smaller Stools, Less Mess
The highly digestible combination of natural ingredients in TLC's Whole Life Pet Foods means that the majority of the food content is actually absorbed into the body to be used for energy, protein and general health maintenance. This in turn means that there is less stool volume to deal with.
Their Customer Service
They say they have unmatched customer service, dedicated to serving you and your pet. We've found this to be true! Having a person to talk to and to answer questions without searching the web in circles is very valuable in our opinion.
Delivered FRESH & FREE
TLC Pet Food is made fresh and delivered for FREE right to our door. TLC is knowledgeable and they recommend/adjust the schedule according to breed and age on AutoShip! We don't have to worry about running out of pet food and can change, adjust or cancel anytime. It's hassle-free and has saved us time and effort.

You are certainly free to search, but we've come to the conclusion after all our research to feed TLC for best overall health and longevity—and our dogs love it! So we hope that you will keep your puppy on it for the entirety of their long life.
Use code 107275-1025 at checkout to get $5.00 off your first order PLUS a free gift and free shipping!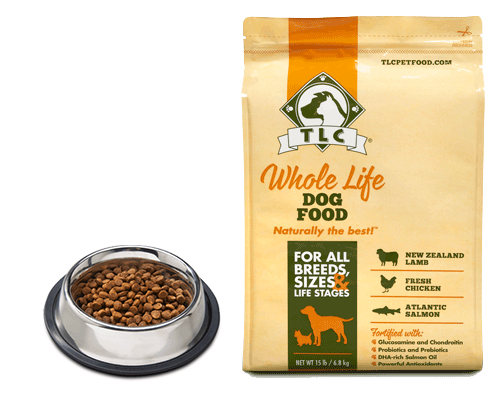 © COPYRIGHT 2015 - PINEWOOD ACRES GOLDENS - ALL RIGHTS RESERVED.