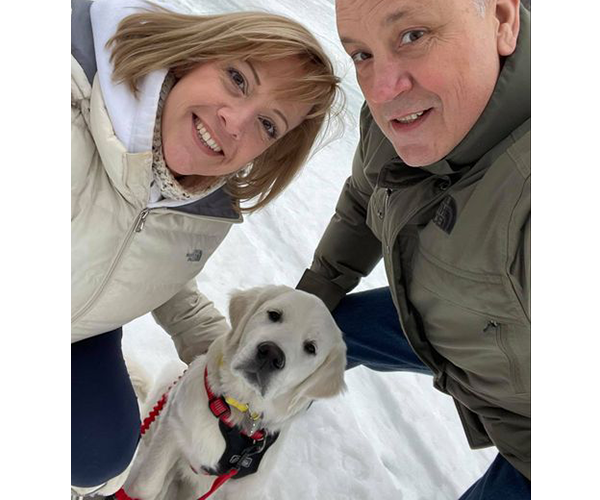 Frehley
We just fall more and more in love with Frehley everyday! We can't even find the words to describe how much this handsome ball of love has turned us into a puddle of mush! He is so incredibly handsome, gentle, and loving! Thank you!!! I love his block head! He is so darn handsome, just like his daddy! We love him sooooooo much, and hope to get another one of your pups in a 2 to 3 years!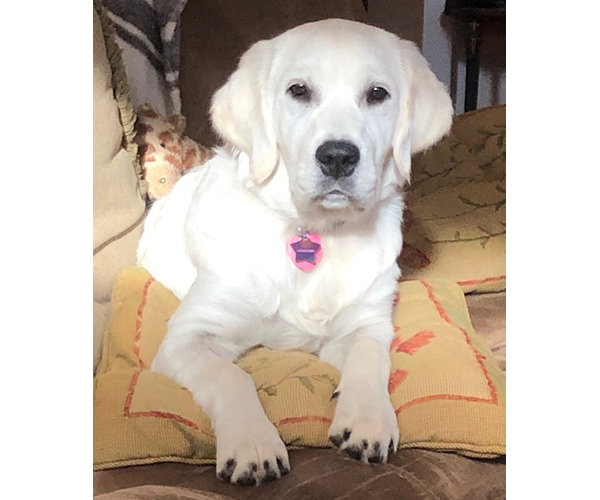 Lilly
Just sharing beautiful Lilly. She is beautiful, muscular, sweet and sweetest girl! Hope you and your family had a blessed Christmas. She's doing great and we > love her dearly. Thanks for sharing such loving dogs with others.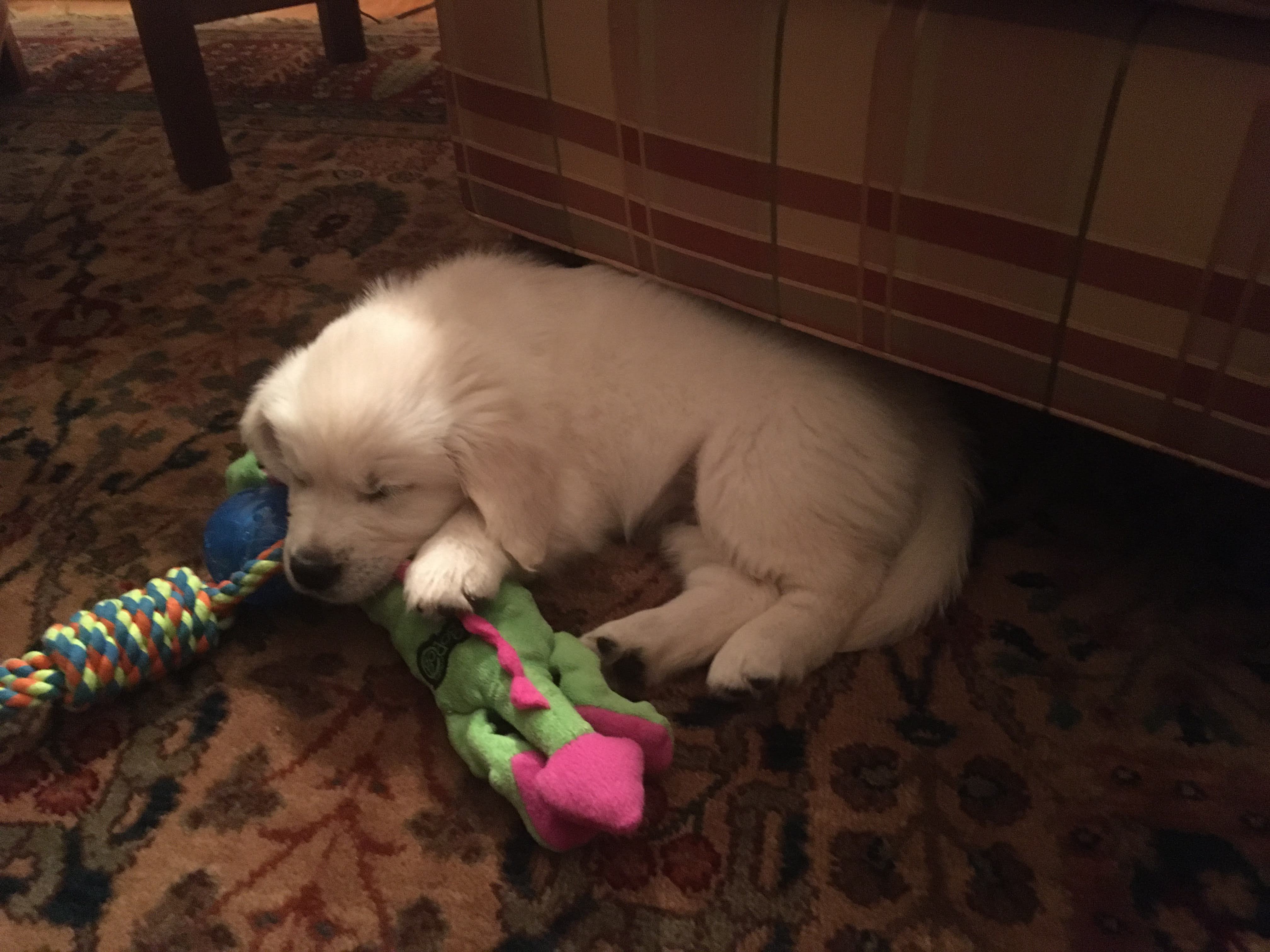 Yoshi
Yoshi is delightful and we love him. He's clever and playful and oodles of fun. He loves to climb under things and to cuddle his toys.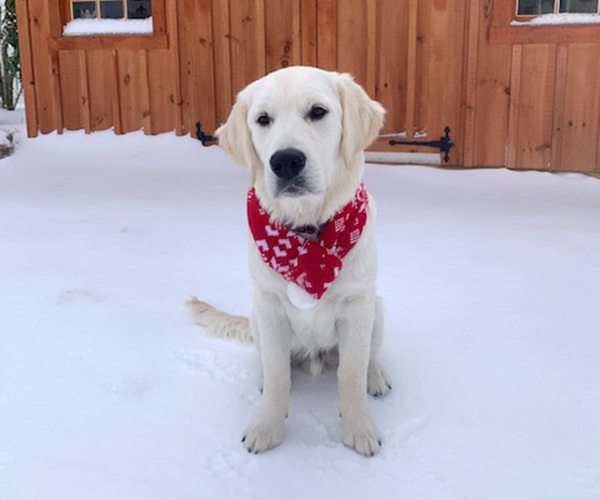 I just wanted to reach out to you and let you know how much we are loving our pup from you! He is 7 mths now and absolutely beautiful. His temperament is calm and he is very smart we are excited to watch him grow. I thought I'd pass a long a couple of his photos to you. He is living his best life! Thank you again.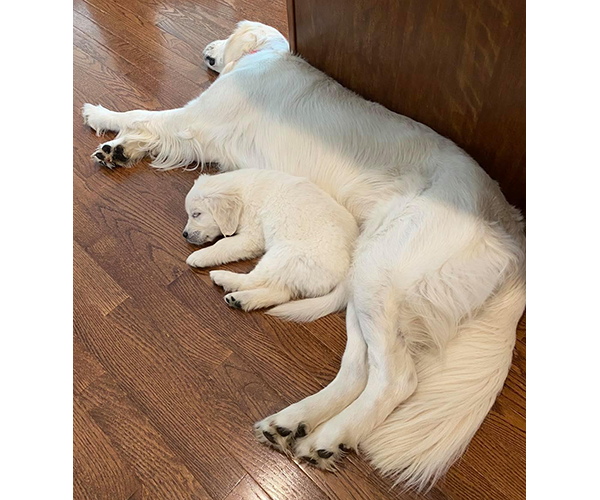 "I'd say they are adjusting! Ivy is so sweet and doing really well!"
Pictured are two Nova/Aspen daughters, 1 year apart!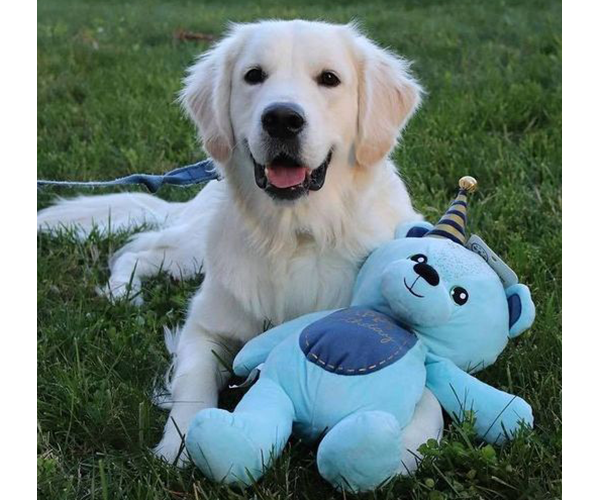 Prince Zeus
Happy 1 year birthday to Prince Zeus!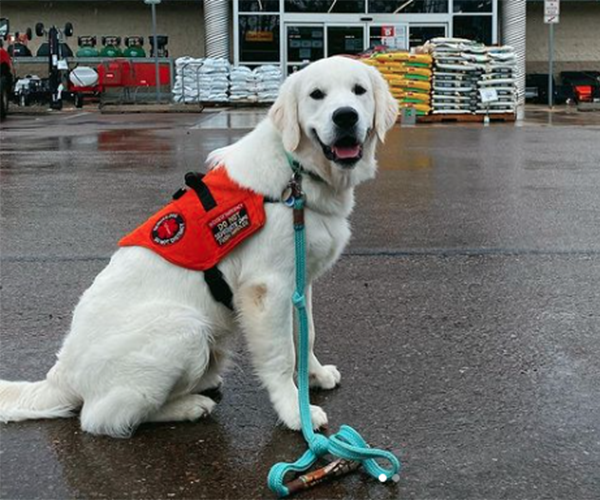 Chowder
Allergy Alert Service Dog
"This dog is going to save my life someday. I am so thankful for both my boys. But Chowder's drive to work is unmatched by anything I've ever seen. He is SO HAPPY and excited to check food for me and tell me if it is (or isn't) safe to eat. So far he's checked: Starbucks drinks, Chick-fil-a, candies at the movies, ice-cream, groceries, and helped me pack my lunches. Two weeks ago, I had my first time with no alerts at work from Biscuit, thanks to Chowder checking my lunch as I made it."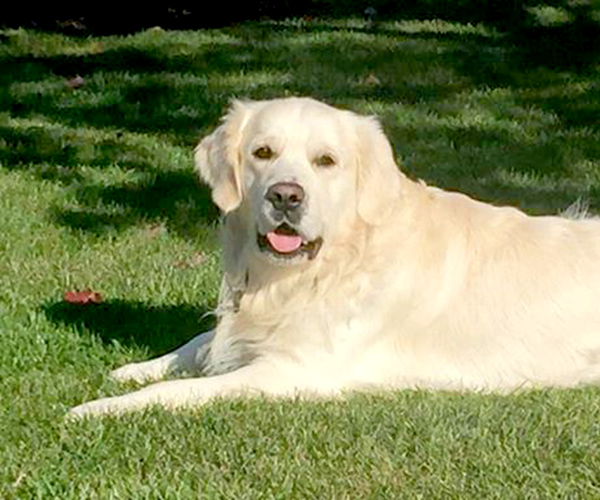 Henry
"I would be lost without Henry. When I am stressed Henry calms me down. He knows me better than I know myself. Whenever I am home, he does not leave my side. Henry is healthy, extremely athletic, and coordinated. Henry is well behaved, very intelligent, and loving. I am very thankful for this faithful companion. Henry is complimented wherever we go."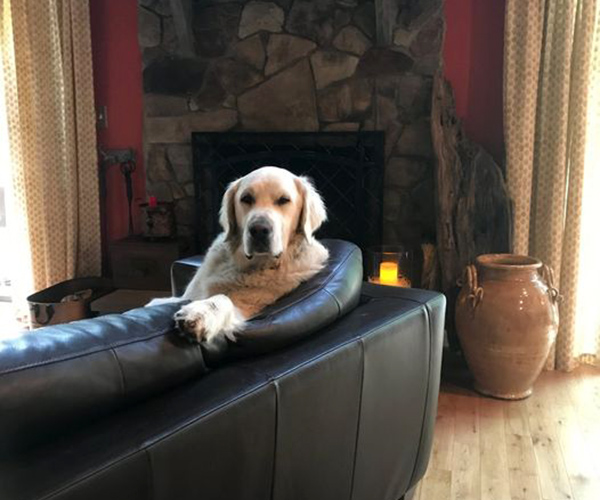 Camper
"If you are looking for a loving, sweet tempered, well behaved and cuddly golden retriever, look no more! Pinewood Acres is the epitome of high quality pure bred golden retrievers, and they are the only breeder we will ever get our four- legged babies from.
Pinewood Acres is dedicated to producing offspring that represents the best characteristics of a golden, from their lineage to their sweet gentle nature. They are quite responsible when it comes to the health and well-being of their puppies and ensuring they are going to the right forever home. And the best part is, they are a family breeder/operation! You couldn't find a better place to bring home your baby golden, nor a family that cares as much for their pups.
More than that, over the years, Pinewood Acres continues to stay in touch with Camper, and us. They are a great resource and a wonderful friend. We couldn't' be more blessed!
Now, let's talk about our baby, Camper...well, he's almost three but he's the baby of the family. As you can see, he's gorgeous! He's sweet and loving and adorable and funny! Training was a snap, and he continues to be so well behaved as he matures. He's the kind of dog that attracts
attention and compliments no matter where we roam. And his vet, well, he thinks Camper is the most amazing dog, EVER!
We can't imagine our life without Camper, and we know you will be as grateful as we are to have a Pinewood Acres golden as a part of your family!"
Chelsea
I just wanted to send you an updated picture of Chelsea. This is her after she was playing in the snow. If you ever need a reference, we would be happy to. She is at the vets today getting fixed....this is the first time we have not had her with us and we totally miss her. She is such a great dog. Absolutely wonderful! Happy New Year! -Dianna
Buffy
Just wanted to give you an update on Buffy. She is of course 7 months old now and absolutely gorgeous! She is well over 50 lbs. She is eager to please and has a lot of energy! We love her dearly and she has kept me company through the long winter. -Jody
Dexter
I attached a few pictures that may show Dex's temperament with the new baby. The baby is about 1 1/2 months in these pictures and I have to tell you.. we have never met a dog, much less a puppy, who is as kind and gentle with infants than Dexter. He is only 6 months older than the baby and I can forsee many happy years together. Dexter is a vibrant, smart, and wonderful addition to our family.
Here are some other fantastic notes:
He has NEVER gone #2 in the house.. never even attempted.. and he was house broken for #1 by the time he was 10 weeks. We attribute this to the great care he received in his infancy in your care. He is calm and appears to have always been well cared for.
He has NEVER been posessive about his food. This also is attributed to his care before we brought him home. This is an important factor.. particularly when you have infants or small children who like to "pet" the dog while he eats.
After loosing his baby teeth, he has not chewed on anything. I have no idea where this comes from.. unless he understands the word "NO" better than we think.. haha.
He is the best dog my husband and I have ever owned. Very high energy, as all goldens are, but if he gets enough exercise and we stay to a feeding and sleeping schedule for him.. he is the happiest, most content dog. Thank you so much for your care and attention. He is growing into a fantastic family member. ... Oh, and he is about 65 lbs now!! More soon! -Amy
Cooper
Things have been great we named him Cooper. Cooper has been the perfect puppy so far. He has only had one accident in the house and since last night does not bark when we put him into his crate. He is alittle bit clingy though. Won't go outside by himself but I think he will soon get over that. He was very hard to drive with on the way back he refused to get off my lap but we made him home ok. We took him to my parents house over the weekend and he had his first water experience. He was running around like a mad man jumping in the creek and chasing chickens. We have been trying to get him use to the leash the last couple of days. He has gotten better but he prefers to hold it in his mouth and pretend he's walking us. Thanks for the email and I'll be glad to update you anytime so don't be a stranger. I'll get Stacy to send you some pictures soon so look for that email in the next week or two. -George
Cooper
Cooper is doing really well. He weighs 61 lbs. now. We had him neutered 2 weeks ago today. He is doing great he didnt have any problems at all. We are taking him on vacation to Bristol Tennessee in 2 weeks with us. Should be an interesting ride with him and the 4 year old grandson in the car lol. I have lots of pictures that I will upload later this evening and post for you. Hope all is well tell the family hello for us. He looks like Nelly. The vet said he is a very good pup and great temperment so thats good to know. talk to u later or tomorrow . Hope you r enjoying ur summer!! -Roz
Cheyenne
How do i add more testimonials on your website? I am so pleased with how loving Cheyenne is, and I know it's because her critical time in life to be socialized was totally due to you and your family playing, cuddling, and loving her. I would like to mention that on your site. So nice to see pics of her online. she is wonderful, and we love her so much. Thanks again to you & your family! Have a great weekend ~Jill
Ace
We named him Ace and he is doing very good he is very obedient we could not ask for more. he is already train for bathroom a month ago already he has became what my husband wanted him for a companion for Isaac. He is been companion for him we are very pleased with him. We will send some pictures later on. Thank you we'll keep in touch. -Aida
Mia
Mia is doing great and immediately became comfortable in her new home. Mia is a beautiful, loving and fun dog who has already brought tremendous joy into our home. You did a great job of raising her and we are thankful for all you and your family did in those critical early weeks. I have attached some pics of Mia and her new brother Zach. They get along very well, but to be honest, Zach doesn't want to play quite as much as Mia does. He doesn't seem to mind though and he is already protective of her and teaching her the ropes around the house and yard. Please keep in touch and we will try to send pics every once in a while. -Steve
Cody
Now as far as telling people about my experience with Miss Jordan Stroud is that she is a very upstanding young lady that treats her dogs with the most love and obedience training that I have seen from a girl-breeder. My Cody was semi trained to go to the bathroom outside. He has not once gone number 2 in the house now as far as number 1 we are still working on that. But Jordan has all her paperwork in order and is very informational with customers. As a breeder myself I would do business with that young lady anytime anywhere. As God is my witness. We call Cody Arnold. Because he comes in the room just like he has just finished pumping iron at the gym. It is funny will have to get a video on my phone and send it to you. Take care and hope all is well, Jerry
Pepper
I wanted to take a moment and thank you for such a wonderful little girl!! She hasn't missed a beat since she came home with us. I can only hope that when I sent puppies home with their new families that they were as well socialized and confident as Pepper has been! Her "big sis" Trixie took a few days to warm up, but they play all the time now. Thank you so much for our new family member! -Jessica
Howie
Howie is doing great and is an amazing dog. We cannot go anywhere with him without getting stopped several times because people can't resist petting and playing with him. He is friendly, good with kids, obedient and an all around amazing dog. He has never gone #2 in the house and rarely had a #1 accident after the first week. He could sit, shake, lay down, and stay within a few weeks. We couldn't be happier and love every minute with him. Thank you so much for your help, we really enjoyed working with you and will definitely recommend you to any friends looking for a golden in the future. I've attached some recent photos. The purple bandana picture was just a day or two ago. Hope you're having a nice summer. -Molly, Patrick, and Howie
Cammie
Just wanted to give you an update on our beautiful little/big Cammie. She is now 17 weeks and a little over 35 pounds. Excelling in her obedience training and being such a star. She is now dubbed Captain Cammie as she hits the pool on the double raft on her own. If I can figure out how to send you the video I will. She is such an awesome addition to our home. You guys did such a wonderful job raising her and we are considering another next year. Thank you so much and want to say Thanks for the best friend we have in our new home. At any time if you guys are ever in Mt. Airy come for a visit. -Susan